Bit Player began in 1987 as Bit Player Software, producing shareware products for the Commodore Amiga and providing contract programming services to software development companies in the Puget Sound area.
In 2004, Bit Player emerged as a new entity -- a company dedicated to providing expert, personalized, "user-friendly" computer advice, web-site design, and programming services to businesses, associations, and individuals, with prime geographical concentration in Seattle and Southeast King County.
---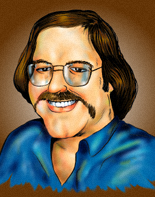 James Walley taught himself programming in the mid-1980s and founded Bit Player Software in 1987. His products for the Amiga were selected for inclusion in a number of major shareware disc series, and received favorable comments in computer magazines worldwide. His success with Bit Player Software led to a fifteen-year career in commercial software development with Synergistic Software, Sierra On-Line, and Amaze Entertainment, producing edutainment and game software for publishers such as Electronic Arts, Virgin, THQ, and Time-Warner Interactive.
In addition to his programming and design work in the course of his software development career, Walley has also worked as a reporter, columnist, and photographer as well as directing motion pictures and stage productions. His writing and visual design skills lend themselves well to the creation of compelling, attractive web sites.
With an extensive knowledge of hardware and software (including building his own computers), Walley is well-equipped to provide solutions to general computing problems, from picking the right components and software to setting up efficient wireless networks.